The Ultimate Guide to Choosing the Perfect Family Activity!
Nestled in the picturesque Cooley Peninsula of County Louth, Carlingford Adventure Centre and our sister company, Skypark, offer a wide range of thrilling activities suitable for all ages and skill levels. Whether you're seeking adrenaline-pumping adventures or a more relaxed experience, we have something for everyone.
In this guide, we'll explore the various activities available and provide you with tips to help you choose the perfect adventure for your family.
Explore our Popular Activities
We have an impressive array of activities designed to cater to diverse interests and abilities. Here are some of the thrilling adventures that you'll definitely enjoy with the whole family:
Kayaking
Discover the beauty of Carlingford Lough while paddling through its calm waters. Kayaking is a fantastic way to explore the coastline, observe wildlife and play a little water racing with the family. For an extra dose of excitement, consider getting one of our double kayaks and enjoy the adventure with your parents or sibling!
Canoeing
Take to the water and navigate the scenic lough in a canoe. Whether you're a beginner or an experienced paddler, canoeing provides a fantastic opportunity to explore the picturesque surroundings at your own pace.
Join forces with your family members in one of our canoe rafts!
Laser Combat
Engage in epic battles with laser guns in a purpose-built combat zone. Laser combat offers an adrenaline-fueled adventure without the mess of paintball, making it suitable for all ages.
Engage in exhilarating battles across our four specially designed combat zones, featuring pulse-pounding games such as Total Annihilation, Capture the Flag, Pilot Down, and Sniper School. With a vast expanse of nine acres of woodland, boredom is simply not an option!
Survivor
How about a group activity to strengthen teamwork and survival skills within the family? Indulge yourselves in the rugged beauty of the woodland and try to survive! This group activity provides an opportunity to learn wilderness skills such as shelter building, fire making, and navigation.
It's physically and mentally challenging, so your family needs to work closely together to overcome the obstacles! *Suitable for large family groups only (10 people+)*
Ziplining
Soar through the air and take in breathtaking views as you zip along the exhilarating zipline course. Our sister company, Skypark, offers an aerial adventure experience that will leave everyone in awe!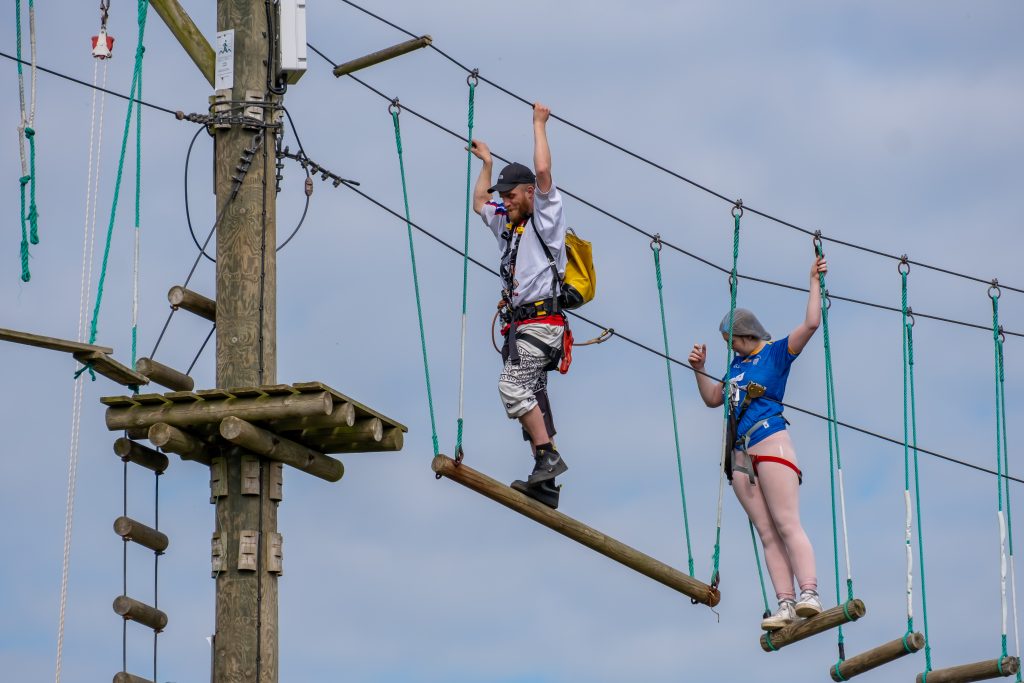 Factors to Consider for the Perfect Family Adventure
When it comes to choosing the perfect family activity, there are several factors to think about to ensure an enjoyable and memorable experience for everyone. Take these aspects into account:
Consider the age range and physical capabilities of your family members. Some activities may have age restrictions or require a certain level of fitness. Choose activities that can be enjoyed by all participants, taking into account any special considerations.
Interests and Preferences
Think about the interests and preferences of each family member. Are they drawn to water-based activities like canoeing and kayaking? Or are they more inclined towards land-based adventures like Laser Combat? Would they prefer an adrenaline buzz or a leisurely activity?
Make sure to select activities that align with everyone's interests to enhance engagement and enjoyment.
Our professional staff at Carlingford Adventure Centre will supervise each activity session, ensuring a safe and enjoyable experience. Each session is scheduled for a duration of 3 hours and includes insurance coverage along with the provision of specialized equipment. Skypark is more flexible with variable activity timings, arrival times etc, its more like an activity theme park!
What to bring:
2 Pairs of runners (if doing water sports)
Plastic bags for storage of wet gear.
Personal toiletries & towels if you want to get changed (we provide showers).
Sunscreen (we cannot provide sunscreen due to unknown medical conditions).
Cap (if sunny), hat (if cold)
Plenty of layers so you can strip to suit the weather, better to have too many than too few!
Please note: wetsuits, buoyancy aids & helmets are provided for water-based activities.
Check the center's website www.carlingfordadventure.com to explore the available activities, pricing, and any special requirements. It's advisable to make reservations in advance, especially during peak seasons.
Take Your Family To An Unforgettable Day-out!
Carlingford Adventure Center is an ideal destination for families seeking exciting and memorable experiences. By exploring the range of activities, considering factors such as age and skill level, and following the tips provided, you can ensure a perfect family adventure.
Don't miss out on the opportunity to create lifelong memories and strengthen the bond with your loved ones.