Who we are
About Us
Carlingford Adventure is the no.1 activity centre in Ireland
We offer a fun and safe way to try exciting outdoor adventures. We welcome families, groups, and individuals. There are full day and half day options available throughout the year, and kids camps during Easter, Summer, and Halloween/Autumn.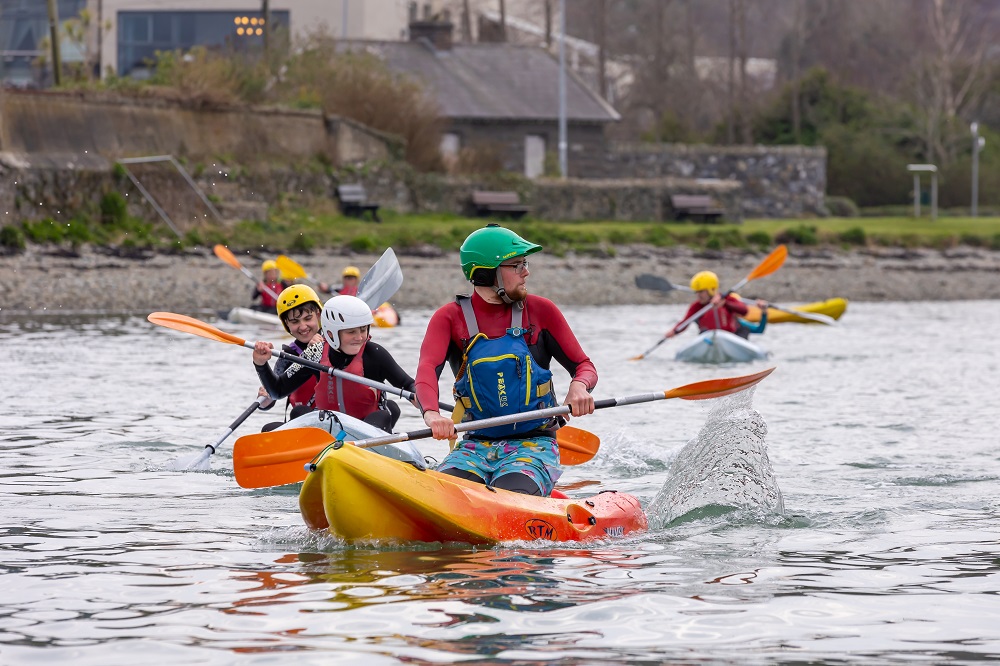 We have over 30 activities on our three adventure sites Land, Sea & Sky! WOODLAND includes rock climbing and abseiling, laser combat, Gaisce hill walking. SEASPORTS has kayaking, canoeing, stand up paddle boarding, raft building, canoe rafting, and water pontoons/water trampolines. SKYPARK has an aerial adventure course, Sky Junior, team development high ropes, crystal maze challenge course, footgolf, aeroball, archery, climbing wall, ziplines, base jump, and quazer.
The centre is located in the middle of Carlingford and offers great deals on accommodation and activity packages in private hostel dorms or holiday homes.
Dining Options
We have fully qualified caterers to provide delicious home cooked meals for groups, teams, and the whole family!

All dietary and medical requirements can be catered for
Dining hall seats up to 90
Onsite sweets shop
Carlingford Adventure is recognised as the most successful outdoor adventure centre in Ireland.
when you're here
Our Values
Educational
The best possible experience
Always great fun

Fun for Family and Friends

Building Communities
SUMMER CAMP
1. How many nights can my children stay at summer camp?
3 or 5 nights for Senior children (10 – 17 year olds) residential or you can drop off / ​collect each day.

2. What makes Carlingford Adventure's Summer Camp different?
Our Summer Camp offers an exciting activities–based programme across Land, Sea and Sky in a stunning village location. Our programme is different because in addition to having great fun, participants learn life enhancing skills as well.

3. What type of activities are available each day?
We offer a set programme of exciting activities each day. You can check it out here.

4. How does Senior and Junior Summer camp differ and how do you keep the older kids apart from the younger ones?
Junior non–Residential (ages 6-9) come for day trips at Skypark, Senior day trips and ​residential guests are based in Carlingford Adventure.

5. What meals are included each day at Summer Camp and can you provide some menu examples?|
Non residential day trips include a hot lunch. 3 and 5 night residential camp offers ​all meals included in the price. Please see here for example menu.

6. Where do I drop my children off to for Summer Camp?
For Senior Camp residential (age 10 –17): Carlingford Adventure Centre, Tholsel Street, Carlingford, County Louth.
Senior camp day trips: Carlingford Adventure Centre Pool Hall, Dundalk Street, Carlingford, County Louth.
Junior Camp: (daytrips only) Skypark.

7. What time do the kids go to bed and what time do they have to get up each morning?
11pm Lights out, Wake–up call 7.45am

8. What are the costs involved with Summer Camp?
5 Days Residential €399 per person (includes all activities, accommodation and meals)
3 Days Residential €240 per person (includes all activities, accommodation and meals)
5 day Non Residential €220 per person (includes all activities plus hot lunch each day)
3 Days Non Residential €145 per person (includes all activities plus hot lunch each day)

9. How do I book Summer Camp?
Please Book online

10. What should children bring with them to Summer Camp?
Please see the following useful information.

11. Are children allowed to bring their mobile phones with them so we parents can stay in touch? Is there somewhere for them to charge their phones?
Children can bring and charge their phones but are only allowed access to phones at ​certain times each day. Please check out our Mobile Phone Policy for more ​​details.

12. What safety precautions have you put in place to minimise the risk of kids catching Covid19?
We have worked really hard during lockdown to implement the government's ​​guidelines on Covid19 and Social distancing. We've implemented Pods of 15, ​​sanitising stations, Masks & Temperature checks, separate arrival locations; ​​and reduced bedroom capacity. We're proud to have been awarded Failte ​​Ireland's Covid19 Safety Charter which means you can book with confidence.

13. What would happen if one child or more caught Covid19 while at our summer camp?
We have quarantine rooms available which can be used to isolate anyone thought to have Covid until test can be taken to determine for sure and parents contacted etc.

14. Are your instructors / supervisors tested regularly for Covid19?
Temperatures are recorded every day and anyone with a high temperature is ​​asked to isolate.

15. If you have to close due to a covid outbreak will there be a refund?
If you cannot travel due to covid travel restrictions then we will refund you, if you cancel for any other reason we are happy to change the date or give you a credit note.

16. Will the kids and staff have to get tested before the camp?
No the kids do not have to be tested but their temperature will be monitored while ​attending the camp

17. How many kids will be in the camp?
We work in pods of 15 as per the government Covid19 guidelines and your child will ​eat, complete ​activities & be accommodated in their own pod.

18. Will the two girls be able to share a room?
Yes no problem, we note requests like this on the booking. The rooms are on ​​average 6 per room so we will have the pods in rooms beside each other.

19. Will they be free to leave the centre and go into the town or are they supervised all the time?
No children are not allowed to leave the building on their own. There is an onsite ​shop and vending machines for them to use.

20. What feedback have you had from parents about previous years summer camps?
We've had loads of positive feedback and are confident our Adventure Camp offers a lot more than traditional 'summer camps' offered elsewhere. We aim to positively improve young people's lives with what we call 'Adventure Therapy'. Here's just a small sample of feedback we've received.

21. Are the kids supervised the whole time and through the night while on the camp?
Kids on our residential camp are supervised the whole time they are on the camp by one of our experienced instructors. They start their day off with an instructor for their morning activity who stays with them all day through lunch and into the late afternoon, then one of our other instructors then starts their evening activity with the kids, the kids then get a bit of time to relax with our facilities. They then head to bed at 11 o'clock and the instructor stays on as their night warden. They stay in the adventure centre in our dormitory style rooms which vary in size.
NEW SCHOOL PACKAGES
1. Why have you changed the school package options?
With over 30 years experience, we have listened to your feedback and packaged together the activities that work best for you. Our new packages enable you to maximise the time spent doing activities and will make the day flow better for you and your students. You simply pick your most preferred package(s) and one back up option and we'll do the rest.

2. How do the new packages work?
Please see the following here

3. What activities are available?
We have nine school packages available covering a multitude of exciting activities ​across land sea and sky. Please see School Trips​ for full details.

4. If we make a booking and pay our deposit but subsequently find that we cannot come due to Government Covid19 restrictions will you issue a refund?
Yes if you have to cancel due to travel restrictions or another lock down we will ​​provide full refund

5. Can we bring our school and stay over night so we do two or three days of activities?
Yes from the 2nd June 2022.

6. What are the costs involved with School packages?
There are a range of prices to suit all budgets. Please see: ​
€ Euro Prices | £ Sterling Prices

7. Are there any packages specifically for Primary Schools?
Our Sky Junior short day pass is for primary school children (5 – 10 year olds) and is a teacher led package with four activities – Foot golf, Mini Golf, Ireland's Ancient East Maze and a mini train ride. It must be booked online at www.skypark.ie and includes a hot lunch. Please see video.

8. How much does it cost to add on evening activities and dinner at Skypark to a day trip package?
You can keep the fun going for just €22 per person.

9. Can we pay in Pounds £ Sterling?
You can pay in either Euro € or Sterling £. Please see Question 6 for links to ​​pricing

10. How do I make a booking for our School?
Email [email protected] or call 042 937 3100
SKYPARK
1. What options are available for a day trip to Skypark?
We offer four main great value day passes including:
a. SNR Park Pass – Red
b. JNR Park Pass – Blue
c. Activity Pass – White
d. Accompanying Pass – Purple
Further details and online booking can be found at here

2. Can customers just turn up and pay at the door or do we have to book online first?
Due to Government Covid19 restrictions regarding numbers and social distancing we ask all customers to book online in advance – see www.skypark.ie

3. What options do you have for doing individual activities?
We have lots of exciting 'Pay and Play' options for people of all ages and abilities. ​​These can be booked online and include:
a. Accessible Zip Wire
b. Aerial Adventure Course
c. Ireland's Ancient East Maze
d. Archery
e. Axe Throwing
f. Foot Golf
g. Frisbee Disc Golf
h. Rock Wall
i. Junior Aerial Course

4. What Covid19 related measures have you put in place at Skypark in relation to Government Guidelines?
Smaller group sizes, Social distancing, Masks, sanitising stations and all equipment is ​sanitised after each use.

5. What food is available at Skypark and what are the costs?
We have delicious freshly cooked hot food available. You can find out more here

We also have a café menu featuring hot drinks and sausage rolls, croissants etc.

6. Do you offer any birthday party packages at Skypark?
We offer two great value birthday packages at Skypark and one that is run through ​our sister company Carlingford Adventure (laser combat). You can find out more ​​details here

7. What options are available for instructor guided activities at Skypark?
We offer six exciting options, all of which can be booked online, these include:
a. Crystal Maze Challenge
b. Team Development High Ropes
c. Archery Combat
d. Archery Combat Combo
e. Archery Combo
f. Axe Throwing Combo

8. Is there a map of Skypark available?
You can find a map detailing the various activities and where to find them toward ​the bottom of our website homepage

9. What days and times are you open?
Weekends and bank holidays all year round and all school holidays North & South – ​if the schools are closed we are open! Open times are from 10am-6pm

10. Can I just drop off the kids for the day?
Kids under 16 need adult supervision at all times. You don't have to participate ​but ​you need to be within the park.

11. Do you have any activities for smaller kids – 4 years & under?
Kids under 4 can use sandpit and also ride in the train

12. Do you have any activities for adults?
Yes, adults can take part in most of our activities – we are Ireland's biggest Adult ​​Adventure Playground!

13. Do you activities go ahead in bad weather?
Yes we will go ahead with our activities unless it is unsafe to do so, for example in a ​storm or extremely high winds.

14. Can I get a refund if I can't make it?
No, we aren't able to refund but can move your booking to a new date.

15. Do you have shower facilities?
No, not at Skypark but our sister company – Carlingford Adventure – has shower facilities that can be used if required.

16. What are the directions to reach you?
Eircode for Skypark is A91 TK71 – check us out on Google Maps!

17. Do you have accommodation?
Not at Skypark but we do offer a variety of accommodation styles with our sister ​​company – Carlingford Adventure Carlingford Accommodation & Holiday Homes | ​CarlingfordAdventure.com

18. Do I have to book activity timeslots in advance?
Yes, for the Skypark Aerial Course as it can book out during busy periods

19. Do you have parking?
Yes we have lots of free parking onsite

20. Do you need to book basic entry if you are doing activities?
No, only if you are not taking part in activities

21. Is food included on the activity passes?
No but can be purchased separately through our great online app!

22. If I'm supervising and not participating do I still need to pay?
You do have to pay the basic entry fee (€10), but it gets you access to the Ireland's ​Ancient East Maze!