Summer is Coming: Dive Into the Fun at Summer Camp 2023!
With summer just around the corner, Carlingford Adventure Centre is gearing up for another exciting Summer Camp season in 2023.
As the temperatures rise and school comes to an end, kids are eagerly looking for fun and thrilling activities to make the most of their vacation.
Nestled in the scenic coastal town of Carlingford, Ireland, Carlingford Adventure Centre offers a wide range of exhilarating outdoor activities that promise to create unforgettable memories. From kayaking to water trampolining, raft building to stand-up paddle boarding (SUP), and pier jumping, there is something for everyone at this adventurous destination.
What are the most popular activities during Summer Camp?
Kayaking
One of the most popular activities at Carlingford Adventure Centre is kayaking. Surrounded by the breathtaking beauty of Carlingford Lough, participants can explore the calm waters while enjoying the stunning views of the Cooley Mountains and the Mourne Mountains. Under the guidance of experienced instructors, campers learn essential kayaking techniques, including paddle strokes, balance, and safety measures. This activity not only provides an adrenaline rush but also promotes teamwork and enhances coordination skills.
Raft Building
Campers at Carlingford Adventure Centre have the opportunity to put their teamwork and creativity to the test through the thrilling activity of raft building. Armed with ropes and planks, participants work together to construct a sturdy and seaworthy raft. Once their raft is built, they take it to the water for a thrilling adventure. Raft building not only fosters collaboration and problem-solving skills but also allows campers to appreciate the importance of effective communication and resource management.
Pier Jumping
For those seeking an adrenaline rush, pier jumping is the perfect choice. Campers have the opportunity to leap into the refreshing waters from the safety of a designated pier under the supervision of trained instructors. Pier jumping combines the thrill of freefall with the joy of swimming, offering an exhilarating experience that will leave participants feeling refreshed and invigorated. This activity not only builds courage and self-confidence but also provides a sense of accomplishment as campers conquer their fears.
Stand-Up Paddle Boarding (SUP)
Stand-up paddle boarding (SUP) has gained immense popularity in recent years, and Carlingford Adventure Centre offers the perfect environment for participants to try this exciting water sport. SUP involves standing on a specially designed board and using a paddle to navigate through the water. With expert guidance, campers can improve their balance and core strength while enjoying the tranquility of Carlingford Lough. SUP is an excellent activity for all skill levels, from beginners to experienced paddlers.
Who can join Summer Camp?
Age: 10 – 17years
Prices from: €35 pp**
Available: July 2nd – August 25th
Session Length: It Varies
Accommodation: Residential or Non-Residential Options
Duration: It Varies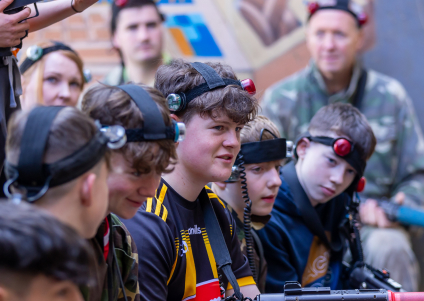 Age: 6 – 9years
Prices from: €35 pp**
Available: July 2nd – August 25th
Session Length: It Varies
Accommodation: Non-Residential Option
Duration: It Varies
Carlingford Adventure Centre's Summer Camp 2023 promises to be an unforgettable experience
Whether kayaking through picturesque landscapes, bouncing on the water trampoline, building rafts, paddle boarding on the lough, or taking the plunge with pier jumping, campers will create lasting memories while enjoying the great outdoors.
Other Activities
In addition to the activities mentioned above, the center also offers a range of other thrilling activities, such as rock climbing, aerial adventures, quazer, laser combat, archery, and more, ensuring there is never a dull moment at the camp.
With its commitment to safety, experienced instructors, and stunning location, Carlingford Adventure Centre is the ideal destination for kids and families.
Visit Camps to learn more. See you at Summer Camp 2023!