Adventure Summer Camp
Top 11 Reasons Why You Should Try Summer Camp in Carlingford Adventure Centre
Carlingford Adventure Centre runs the best Summer Camp in Ireland! Naturally we are biased but there are a number of reasons why this has to be true. There are loads of Summer Camp options out there for kids and teens but Carlingford Adventure is at the top!
1. Location
You will not find a more beautiful location than Carlingford. The quaint medieval town set amidst the peaks of the Cooley Mountains and Carlingford Lough with the Mourne Mountains in the distance. It also gives us the perfect natural setting for the Adventure Capital of Ireland in the heart of the Ancient East. It's just one of the reasons people love visiting us 🙂
2. Adventure
There are tonnes of Summer Camp options but very few real Adventure Camps! It's the difference between your kids going somewhere to waste away a few hours or participating in a real adventure that will help them grow and learn. We get them off technology for a few days, they will be exhausted but love every minute of it!
3. Range of Activities
For 25 years we have been reinvesting and growing our Adventure Centre and can now offer over 30 activities to keep kids of all ages amused and engaged. We have 3 sites that offer the widest range of activities in the country as well as numerous 'evening activities' that kids love:
Land – (1km tree top adventure); Lazer Combat (biggest & best in the country), Rock climbing & abseiling, Orienteering, Night Line.
Sea – Kayaking, canoeing, sailing, windsurfing, stand up paddleboards, raft build challenge, pier jumping, water trampoline, The Tunnel, rock pooling, crab fishing.
Sky – Skypark & Skypark Junior, Crystal Maze Challenge, High Ropes Course, Frisbee Disc Golf, Aeroball, Footgolf, Archery, Mini-golf, rock wall, 3D Maze, Quazar.
Evening Activities – adventure walks, Murder Mystery, Rokit Launch, Circus Skills, Mini Olympics, Talent Shows, Carlingford Challenge, Egg Drop Challenge.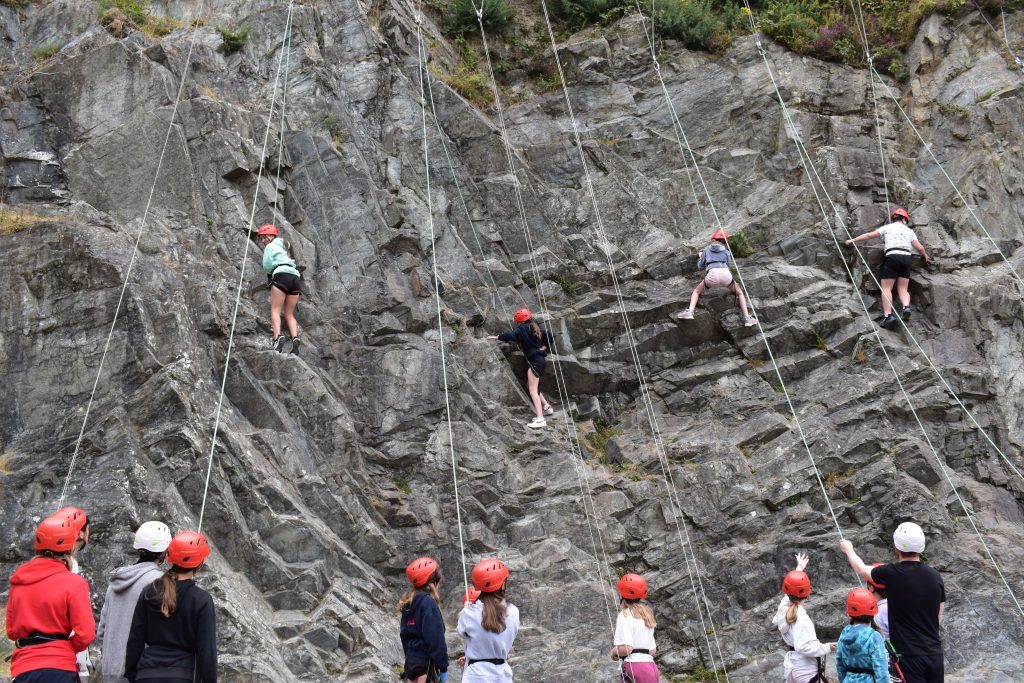 4. SkyPark
The country's largest aerial adventure park with Zip Lines, high ropes, rock climbing, suspension bridges, Tarzan swings, tightropes, base jumps and more! It includes Skypark Junior for 5 – 8 year olds so they can participate in a safe and fun manner.
5. Residence
Our onsite hostel in the middle of Carlingford caters for summer camp and sleep away camps. Kids stay in safety and comfort and won't want to leave! If you want to bring the family we also have a range of other quality accommodations rented through our sister company Carlingford Holiday Homes. Special rates are available for combined stay & Summer Camp.
6. Length of stay
Summer Camps cater for a wide variety of duration so there is something that suits everyone. Residential camps cater for 2 – 5 day stay overs and Day Camps can be booked on an ad hoc basis as required, or a 5 day package. Don't blame us if they pester you wanting to come back though!
7. Staff
Instructors are trained in-house and most have been with us for many years. We are proud to say that our crew are the best in the country – just check out our Facebook page or Tripadvisor to see the reviews they get! Their aim is to make activities safe, fun and challenging whilst sharing their love of the great outdoors. Our in-house maintenance staff create and maintain the various activities and challenges so we are constantly improving and expanding.
8. Accessibility
As well as being a beautiful location Carlingford is also the perfect location to get to, situated half way between Belfast and Dublin and about an hour from each. Close to the M1 it's easy to get to from anywhere and is a short drive from Newry, Dundalk, the rest of Ulster / Leinster and further afield.
9. Facilities
Our canteen can cater for hundreds of people and all food is freshly prepared on site. It's just as well as our camp kids & teens are always starving after their activities! Other facilities include our volleyball court, games room, meeting room, sports hall and ice cream shop! We have free Wifi onsite but they will be way too busy for that!
10. Age range
Whether it's a Kids Summer Camp or Teens Summer Camp you are looking for our Summer Camps cater for 6 – 17 year olds, with separate junior camps (6 – 9 year olds) and senior camps (10 – 17 year olds). Whether it's their first Sleepaway camp or they are well experienced staying away they will have fun in a safe, secure and fun environment.
11. Boundaries
There is no other Summer Camp experience that can broaden their horizons and push their boundaries as much as we will. Carlingford Adventure Summer Camp is truly a life changing experience which will encourage them to make new friends and learn new skills in a safe and fun environment, whilst building character and creating memories for life.
Check Out Our Summer Camp Packages!
So there you go, that's our Top 11 reasons why our Adventure Summer Camp is a must visit for kids and teens.
There are many more reasons but they will just have to come and find out for themselves.
The only negative aspect is that they won't want to go home 🙂 More details and bookings here